News
A Percentages Game
19th November 2020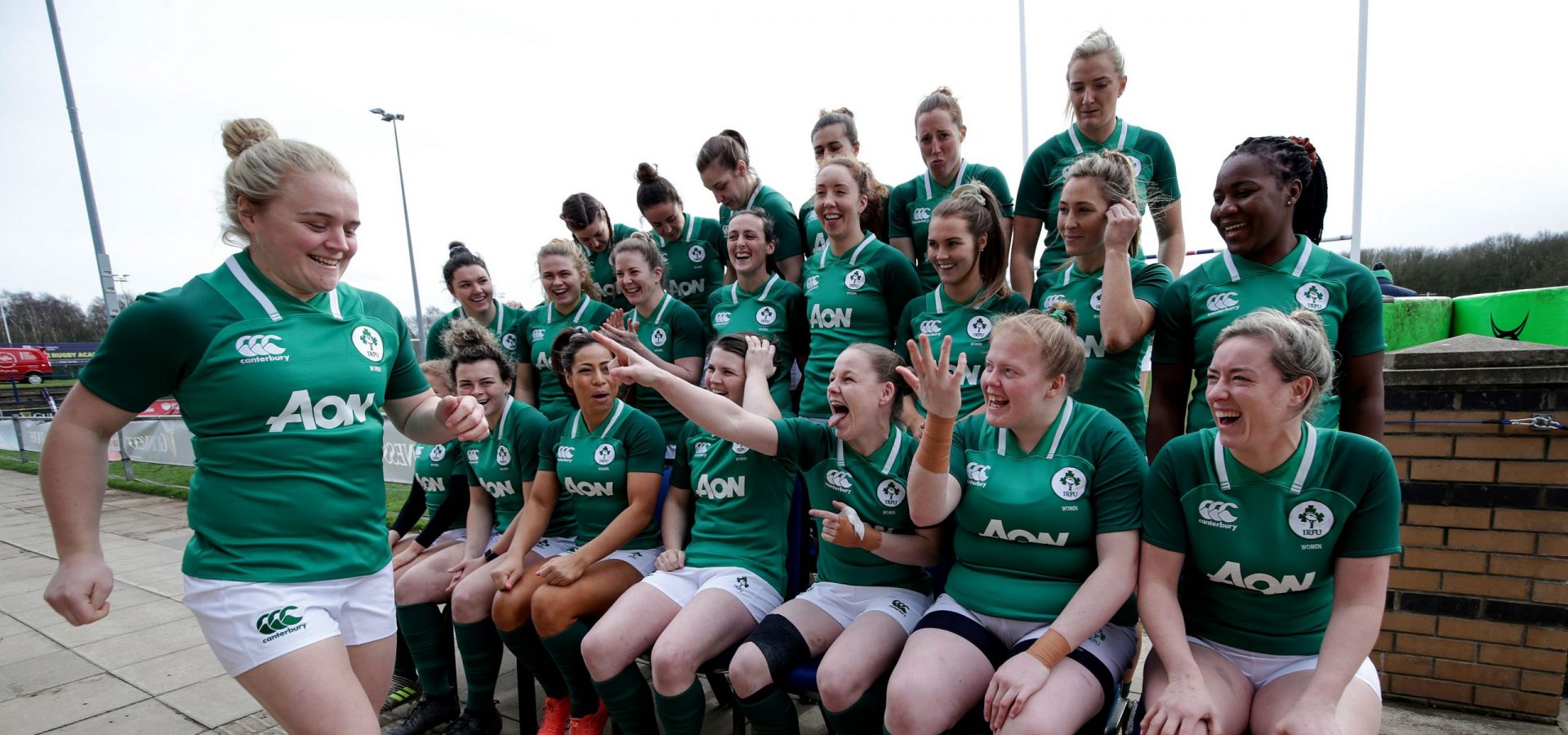 They say that bad news travels fast while good news takes the scenic route. Cliodhna Moloney might tend to agree. Recently crowned the Irish Women's XVs Player of the Year, the London based Moloney was too wrapped up in conversation with some of her Irish teammates back home to pay much heed to the impending news.
"It was funny the way it played out," when we ask her how she heard the news of her nomination for the Irish Women's XVs Player of the Year. "We were at training and Edel McMahon saw me walking down from the pitch on my phone. She'd just been told by Simon [Keogh] about her nomination so she thought I was on a call with him too. I was actually listening to some windy voice note from Lindsay Peat! When I landed down, Edel congratulated me. I didn't have a clue what the girl was on about!"
When word of her candidacy and ultimate success in the category finally reached her, Moloney was humbled. Her modest acceptance at odds with her abrasive performances for Ireland. Indeed, having acknowledged the award she immediately paid tribute to fellow nominees McMahon and Linda Djougang.
"Up until she joined Wasps I had only really known Edel as an opponent for Galwegians," Moloney says. "She was always someone that you could see was lining you up, phase after phase, until she'd eventually smack you. She's a terrier in defence. Always gave a good game. We're probably kicking ourselves that she wasn't involved with Ireland a bit sooner.
"We really see the value she brings to the squad. She has made huge difference in terms of driving standards and making sure everyone knows their roles and that if we're all on the same page, we will all be better together. She typifies our #mewe culture – everything she does is for the benefit of the team.
"Linda is such a powerhouse of a young player," Moloney continues. "She would know herself she has so much more to give to the game. Her commitment to her rugby has been very impressive considering that she has been on the frontline. The girl has buckets of potential and we will be seeing her name involved with Irish Rugby for a long time to come."
Moloney has long been associated with the Irish Women's team in her own right. Now 27, she is on the brink of senior status within the squad. Having made her debut in 2015, you'd assume this automatically comes with the territory but injuries put paid to her involvement in both 2017 and 2019. Determined to reassert herself in 2020, it's probably no surprise that her return coincided with better Irish performances when restrictions allowed.
"I could only look in from the outside and I didn't want to impose, but I was very aware that everyone was quite upset particularly with how the 2019 Six Nations went. The girls didn't need anybody to tell them, they knew the performances were below par for what is expected of an Irish international side.
"Coming back in, it felt like we took a big step up as a team this year. It's a reflection of lots of things. Kieran Hallett has made a big difference in terms of our defensive organisation, while Stephen McGinnis has been putting in a lot of time with the exiles. It's been nice to have someone on this side of the water to keep us in tune and involved.
"There has also been an injection of younger players too who have now been exposed to that level on a few occasions. They demonstrated their capacity to compete and showed that they are ready. They'll only get better and better and that all adds to our squad depth which bodes well for the future."
Moloney's obvious determination allied to her ability to speak with clarity of thought and assuredness certainly identifies with that of a leader. Though she laughs off suggestions that she must now be considered one of the older guard, she admits that she has developed an awareness of those around her.
"It's a weird circle. When I think of my first Irish camps in 2015 when we trained in Johnstown House and we'd have challenge games in Ashbourne, those feel like different days. I look back and think of some of the older girls telling me what to do and others trying to help me along, and I laugh! I suppose it's where I'm at now only I can't be as tough on the younger girls because they're not half as bad as I was!
"I was just a big GAA head in a Galway jersey landing into camp, not having a clue about being on time or about any etiquette at meetings. I always thought I'd be the rogue on the edge but at some stage you end up being the one putting an arm around the shoulders of the younger player and pulling them along with you.
"As bad as the injuries or lockdowns are at the time, there is opportunity to learn a lot. It gives you the time to reflect on where you're really at as a player and person. It also gives you the chance to work on things without the immediate pressure of getting it right. Giselle Mather at Wasps is always making a point about all the 1% things you can do. When you add them up, they make a huge difference."
Cliodhna Moloney always gives her all for Ireland. Don't bet against her giving 101% in 2021.
Back to News
Latest Posts