News
A Number's Game
18th May 2021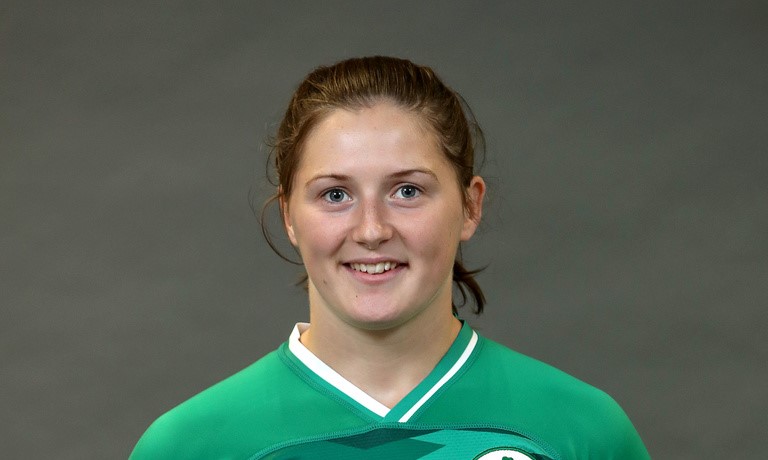 Sometimes the path isn't clearly identifiable. For one thing, Katie Heffernan never thought playing rugby would enable her to see the world. Neither might her maths teacher have foreseen the youngster undertaking a career dealing with numbers.
Having successfully navigated her way through Business at TUD, the Irish Rugby 7s player has recently finished her studies in Financial Analytics at Dublin Business School. Encouraged last year by Dr Vincent O'Flaherty as her Player Development Manager, Heffernan was not going to let a pandemic put her life on hold any more than it needed to.
"When I finished my degree last year, I wasn't sure what direction I was heading in. All I knew was that with the World Series on hold it was a good opportunity to study. There were so many options on the table but I didn't really know what I wanted. When I look back now I was quite overwhelmed by it all. Vinny helped me to narrow it down.
"I had my ideas, but he kept pushing the boat out. I never would have thought I was capable of doing something like a postgrad but he didn't see any reason to hold back. 'You play for Ireland,' he'd say, 'of course you can do this!' It gave me the nudge I needed. I can't thank him enough."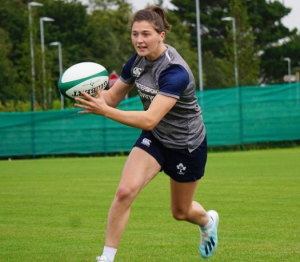 As they worked on her DBS application, Dr O'Flaherty also drew Heffernan's attention to the Goodbody Rugby Players Ireland Personal Development Bursary. Since it was first established in 2018, the programme has aided over 30 members develop their off-field careers with all players using the funds to support their endeavours in a variety of ways.
"Would you believe, before I received the Goodbody grant I didn't even own a laptop! Imagine starting a new course in lockdown without one?! I never realised how much freedom it would give me and that has obviously been crucial over the last year.
"During my degree I had to race around the city between training and the TUD campus to make sure I got to my lectures – there was no such thing as a second chance. Then I'd have to go to the library to use the computers for the evening. Lockdown or not, being able to study and catch my lectures from the kitchen table has been a game changer."
Back home in Mullingar, Heffernan has been taking advantage of her flexible study schedule to make the most of the country air. With rugby coming back into focus (Heffernan was part of the squad that participated in the International Rugby 7s tournament last weekend) she has found renewed energy and hopes to take that into the modified season ahead. Perhaps she might even be able to apply her statistical knowledge?
"The stats have always been something I've loved about being involved with Ireland," she acknowledges. "I love sitting down and identifying our opponent's strengths and weaknesses based on the numbers. In some ways it has also helped me understand how numbers can be applied to a business. It fascinates me how they tell a story that words never could.
"I try to limit those interpretations to team performance though," she points out. "I don't want to read too much into my own numbers. I still prefer to judge my performance on how I feel about it. Most times you can back that up by the stats anyway!"
First introduced to rugby by her sister in 2013, the statistical analysis of rugby was at a far remove from that first session in amongst a mixture of abilities drawn from local GAA and basketball clubs. For all the amenities in Mullingar, Linda Heffernan noticed that despite the increasing popularity of rugby in addition to a Mullingar RFC alumnus at its pinnacle, the local area lacked an underage women's rugby set-up. Together with interprovincial player Ellen Taite, she set about correcting it.
"I can't believe what the underage structure at Mullingar looks like now," Katie says with an obvious hint of pride. "I got down to the club between the lockdowns and there was basically two girls teams for every age-grade from U6 right up to U18. When I was training there we barely had enough for a meaningful session!
"Some people have put it down to the Joe Schmidt effect. He's the kind of guy everyone at the club has their fond stories about. He left quite an impression. So of course the club is going to pride itself on an association with the greatest coach in Irish Rugby history.
"The additional coverage and growing membership have helped it to grow into one of the best clubs in the midlands. Yet while the women's side of the club has also benefitted, I think it all had more of an impact on the men's side of the club. We still needed people who cared enough about it to develop women's rugby at Mullingar from almost nothing."
While the club prides itself on some esteemed exports in the form of Schmidt, the recently retired Conor Gilsenan and the O'Brien brothers (Conor – Leinster Rugby & Sean, Connacht Rugby), Heffernan also counts amongst that number but has had to find her way in what was a new venture for a female member of the club. Although she now lines out for Railway Union in the AIL when her 7s schedule allows, Heffernan has retained her dual status.
"I think we're now beginning to see the fruits of the work being put into the female structures at Mullingar. You'll be hearing more from players like Maeve Scally and Ava Jenkins. I guess the challenge is in keeping players of promise tied to the club.
"Rugby is a short career and any player will want to make it to the top as quickly as they can. Unfortunately, the gap between the top tier and the clubs below is quite big but hopefully as more clubs develop we'll see that distance closing and I hope Mullingar will be one of the clubs to lead the way.
"A lot of people have thanked me for paving the way for young Mullingar women in rugby and even for young women outside of the rugby strongholds. It's nice to hear those things but, to be honest, I don't think I'm doing anything special or different. I'm just doing what I love.
"If my contribution was to show any young girl in the area that you can progress by doing what you love, by taking your own path, well… that's enough for me."
Back to News
Latest Posts