News
A Day in the Life
25th October 2023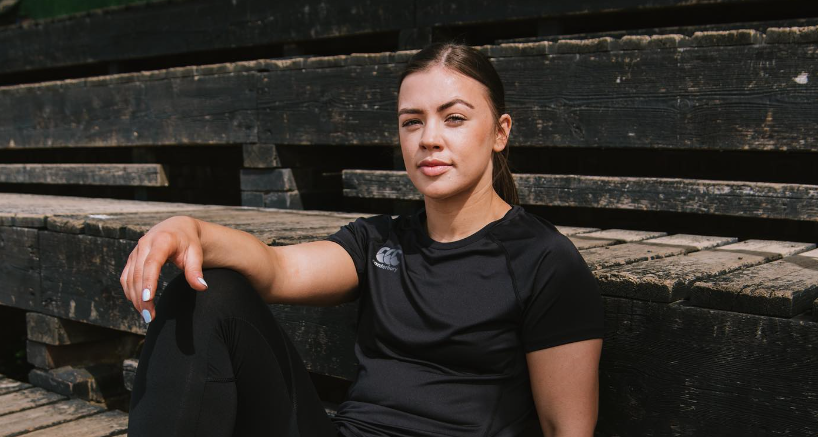 Maeve Óg guides us through her day as a professional athlete when based out of the IRFU High Performance Centre
7am
Wake Up & Breakfast
On the average morning I get up at about 7am. I will have prepared my gear and overnight oats the night before so I can get out the door quickly in the morning. Fuelling before arriving to training is hugely important. It is something our nutritionist Emma Brennan has been putting great emphasis on since we started our full-time contracts last November, so now a good breakfast is a feature of my morning routine.
7.15am
Leave for HPC
I live in Blackrock so I give myself plenty of time to get out to the IRFU High Performance Centre (HPC) in Abbotstown. Meabh Deely usually collects me. I really enjoy the commute in the car. Depending on the day we will either chat, listen to music or sometimes I'll catch up on some video from training or games. It is a good time to get your head in the right place before starting training.
8.30am
Monitoring and Individual Prep at the HPC
The first thing I'll do when I arrive to the HPC is some monitoring and individual prep. This time is important for getting your body in the best place possible ahead of a day of training. I'll do some mobility exercises, some other physical work and go through some mental preparation. If necessary, I'll check in with the physio too so we can catch any niggles or small injuries. Unfortunately, injuries are part and parcel of the game. I had to miss out on our tour to Japan last year after tearing my hamstring. Injuries are very frustrating but a very real part of what we do so using this time in the morning to nail down prehab is essential.
9.00am
Coffee
After a good start to the day, I usually head up to the TYF (Tackle Your Feelings) Players' lounge for a coffee. The girls and I use this time to catch up with each other before the real work begins. Making coffee on the barista machine is still – and will always be – a novelty, so we have a bit of craic with that. We try to use the lounge for down-time between sessions and not bring any rugby into it. It's important to have switch-off periods here and there throughout the day. At about 9.30 we'll head down to get strapped and ready for our pitch session.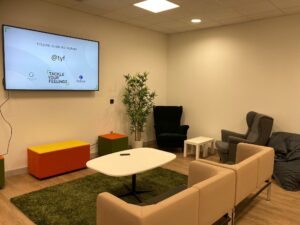 10am
Pitch Session
This is where the real work starts. Our pitch sessions will vary depending on the stage of the season we're at and the current goals that have been set for the team. Sessions will have been outlined at the beginning of the training block or at the beginning of the week. Each day we are provided with a detailed plan so we can properly prepare so we're switched on and ready to go when we're called. Some sessions are short and sharp while others will involve more volume on the GPS. It can be hard when there are no games in the calendar but the long off-season was a huge opportunity for us to grow, learn and get better as a younger playing group in the lead-up to WXV3.
11.15am
Recovery
After our pitch session, recovery becomes the key focus. Emma will ensure we have some snacks ready to begin the recovery process immediately. I will usually head for the hydro-pools in the HPC to keep my body feeling as fresh as possible. The ice-bath is usually where we live after heavy contact sessions or a heavy conditioning session – although these don't happen every day.
11.45am
Lunch
Lunch may seem early but after a busy morning we are usually ready to eat. The food at the HPC is great with Alan, Maurice and Jeremy preparing fresh meals for us every day – something we are hugely grateful for! There is always a great buzz around the kitchen and dining areas and it's always nice to mix with the different squads that are in the building.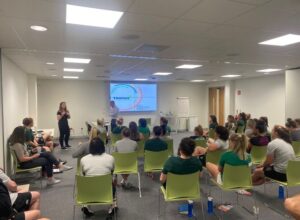 12.30am
Rugby Education
Education is a really important part of the full-time programme. It will vary from video analysis tasks with Cian O'Brien to a nutrition workshop with Emma [Brennan] who will share some tips and new recipes with us. Aoife Lane from Rugby Players Ireland also steps in to deliver workshops designed to help our personal and team development – things like time management, budgeting and goal setting. These sessions always tend to be a bit of craic and I find that we learn a lot by just listening to each other. Most days in the HPC, Aoife will be in the building and available to meet with players on an individual basis for a quick catch-up or to give us a hand with any issues or ideas we may be having. Personally, I have found Aoife's advice and support great in striking a balance between college, work and the rugby calendar as these things regularly clash and can be difficult to manage.
1.15pm
Gym
Since being in the full-time programme, I love getting to the gym with my teammates because they really push me on. Having Ed Slattery (Head of Athletic Performance) around the place for any guidance or questions is also huge. We have speakers all over the gym allowing us to stick on some great tunes – I think the girls will agree that some of the players taste in music can be very questionable. The gym is a huge part of my game, and it is evident how much it helps when I get onto the pitch. I have been lucky that my brother Shane is also developing a career as an online fitness coach. Before I was in the programme, he gave me a lot of help with my gym and conditioning. He is a great sounding bound for me. Shane currently plays for Toronto Arrows and has been capped at international level with Canada. Before he left Ireland he spent a number of years with Connacht, helping them to their PRO12 win in 2016.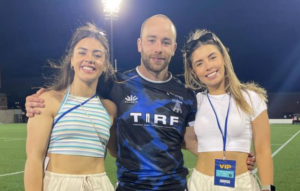 2.15pm
Recovery
Our squad places a huge amount of emphasis on recovery. In the past it hasn't been a luxury we could really avail of. You were often running from one place to the other, getting to lectures or work. Recovery was restricted mostly to your sleep! Now we have lots of opportunities and ways to recover – it usually depends on what works for the individual.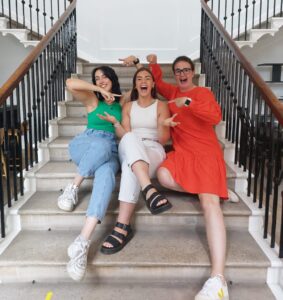 2.45
Time for Home!
Once recovery is done, we are finished for the day. I usually have to get on the road pretty quickly to make it home and get set to start the next part of my day. I work part-time at Wilson Hartnell – a strategic marketing communications and PR agency based in the city centre. I am on the sports sponsorship and marketing team there and I really enjoy the work I do. They have been so supportive of my career and were delighted to see me sign a contract with the IRFU. I do think it's very important to have interests outside of rugby. It gives me a sense of perspective, while being able to switch my focus ensures I remain refreshed and energised for all that I do.
Back to News
Latest Posts