News
Ahead of the Game
14th December 2021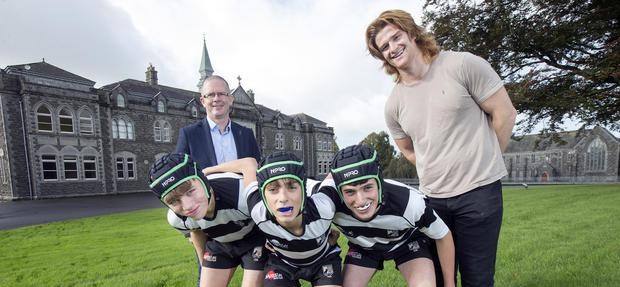 It seemed rather appropriate that Sean O'Brien be on hand to launch an innovative new partnership between Cistercian College Roscrea and N-Pro, the Galway-based sports tech company. The relationship will see pupils in first and second year at his alma mater wearing the most advanced rugby headgear in the world for contact training and matches.
Having been forced to retire following a concussion injury earlier this year, O'Brien has taken up a role with N-Pro as Elite Player Manager. The position allows O'Brien to keep his foot in the rugby door while also gaining exposure to the wider operations of a growing business.
"Funnily enough, I wasn't one to wear headgear during my career but coming towards the end I was beginning to try them out and get used to them," O'Brien reveals. "When the opportunity came up to work with N-Pro I thought it was kind of poignant for me to get involved. I thought it would be a good way to give back to the game that gave me so much and make sure that players don't have to pack it in like I did."
O'Brien sincerely believes that N-Pro are a massive part of the solution going forward. His beliefs are backed up by comprehensive research that demonstrates how linear impacts to the head have been reduced by up to 75% when compared to other scrumcaps, while brain stress is also reduced by an average of 34% in compared to those not wearing headgear. With N-Pro the only manufacturer to meet World Rugby's new trial requirements, the company is well positioned in the international market.
"In my opinion, N-Pro and equivalent products that will eventually come onstream are going to be mandated across the board, like what we've seen in hurling. They have spent the past number of years showing the utility of the product and at this this stage it's… pardon the pun here – becoming a no-brainer for a parent to insist that their child wear headgear.
"For that reason, we have found the uptake to be massive particularly amongst teenagers. We have placed a focus on that age group from a business strategy perspective but it's also been influenced by a number of senior players now wearing them in big games. It's not an easy adjustment the further into your career you go. I spent the majority of my career without using one but younger players find it easier to transition into wearing them.
"Nothing will ever beat the rush of running out onto a pitch in front of thousands of people to play a rugby game but seeing schools and clubs mandate N-Pro has been a great source of excitement."
While O'Brien is currently revelling in his role with N-Pro, he is also continuing his studies in Psychology out of the University of Derby. A graduate of law from NUIG, O'Brien now has multiple strings to his bow and credits Dr Deirdre Lyons with keeping him on track.
"Deirdre has been a bit of a life saver," O'Brien claims. "I'd be pretty lost without her. She has kept me on the straight and narrow throughout my career and as I've come out the other side. I've a huge amount of time for Deirdre and her team.
"Professional sportspeople are a hard group to deal with. Trying to convince rugby players to broaden their skillset when they think they have it so good already is an almost impossible task. I was one of the lads pursuing an education and I still had the mindset that rugby was never going to end.
"Even though my parents always emphasised the importance of an education, my life goals were confined to a rugby pitch. Early in my career the application to my studies was laughable. I was cramming to creep across the line. All of a sudden the rug was pulled from underneath me and Dee's constant reminders about keeping an eye on the far side were ringing in my ears."
A Galway native, O'Brien came through the Connacht Academy having represented Ireland at under-18, under-19 and under-20 level. He was also captain of the Ireland under-20s at the 2014 Junior World Championships. When his body allowed, O'Brien made 60 appearances for the province following his debut in 2015 and was considered a leader of the side in the mould of his predecessor, John Muldoon.
"I do look back on my injury record and think of what could have been if I had kept a clean bill of health and built a bit of momentum. You have to understand that I lost something that my life's aspirations were angled around for so long. I don't feel like I maxed out. There's plenty of caps and achievements I left behind. But that's life.
"Retiring at my age wasn't nice but I'm trying to put a positive spin on it. Over the years my mind did drift to my schoolmates and how they were beginning to progress in their careers. Starting at the bottom rung of the ladder wasn't something I was looking forward to. The way I see it, I can make up the ground a little sooner than I expected.
"All things considered I'm thankful for what happened more than regretful for what didn't. We all want the perfect career but you can probably count on one hand the amount of players who meet that reality.
"Now I have an opportunity to make the most of my next chapter."
Back to News
Latest Posts