News
Stepping Aside
18th August 2021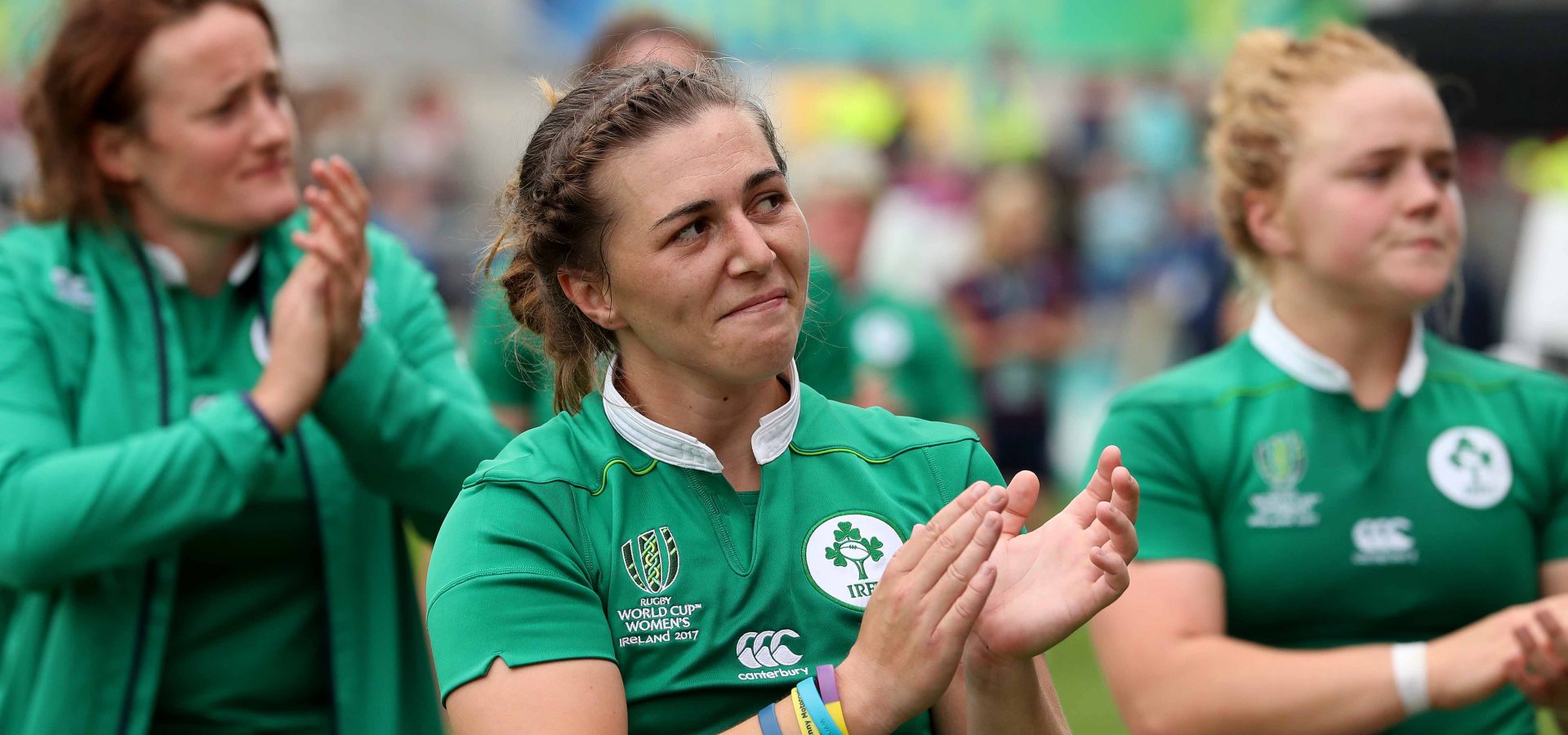 It may have been a daunting decision but as the weather picked up and life began to reopen, retirement from international rugby didn't seem quite so bad for Katie Fitzhenry. Besides, closing the chapter on Ireland was always the plan for 2021 even if it failed to play out quite as she had envisaged.
"Yeah, it's been good so far anyway!" the Wexford woman admits. "The support that has come through has been overwhelming – so many messages and phonecalls. At the same time it doesn't feel real yet either. The girls are on a break so for now things are just as they would have been. It'll be different when they go back into training.
"It was a bit of a decision based on my body and the fact that I felt my time was done," she continues. "I always said I'd finish after the World Cup in 2021 but Covid obviously threw everything up in the air. I mean, my body is fine but between the XVs and the Sevens I didn't think it had two World Cups in the space of a few months in it so I decided to stick to my word."
A real combatant for Ireland over several years, Fitzhenry's abrasive approach to the game earned her the highest respect of her teammates. If at the sake of a few niggles. Nevertheless, she retires with 13 caps in addition to 79 World Series games for her country. Yet while her physicality marked her out as a force to be reckoned with, Fitzhenry believes her real strengths lay elsewhere.
"When I first came into the squads I was very unsure of my place. I didn't think I was good enough. Thankfully, throughout my career I've worked with coaches who have known whether someone needs a kick up the ass or a shoulder to cry on. Stan McDowell was one of them.
"I spoke to Stan in those early stages and he reminded me that we were all good rugby players and that we wouldn't be involved if we weren't. But he also said that I had to be different in some way. I had to see myself at the top of the list in terms of certain attributes. Other girls had speed, some were excellent at set-piece. I wasn't at that stage yet.
"We decided that communication was going to be my point of difference. It was a small thing but it gave me a huge boost of confidence to know I was going to be the best communicator on the field. It ended up bringing on other aspects of my game on too."
This month, Fitzhenry begins a new role with the IRFU that will see her based at the High-Performance Centre in Abbotstown. Though she acknowledges it will be strange to look on as her teammates are put through their paces, she also believes it will help to ease her into her transition. Either way, she hopes to use her learnings in continuing to build the women's game.
"There's huge room for improvement but huge strides have also been made. How the game is played and the facilities that surround it are massively different to only a few years ago. Now I think we need to put a bit of focus on the club game and blaze our own trail. We can't mirror the men's structure because we simply don't have the numbers. There are other challenges too and those need to be heard.
"For me, any progress will boil down to communication. I think it's underestimated, especially by girls. If you're not sure where you stand on something you need to go have a conversation. We need to know certain things. It applies as players too – if you're not making a team, go and have a chat, ask how you can improve. It's not going to kill you. Then go back and ask for feedback, look for the next thing. Communication is key in every aspect of life and always look to improve upon it!"
Clearly, Fitzhenry is a player of the game. Even in the way she played she put others before her. As she casts her eye back over her own career as an international rugby player, she sees life through a similar lens.
"The thing I'm most proud of in my career is how some girls came in with little or no belief, adapted to how things are done and went on to become top class international athletes. Watching them run out for their country brings me huge satisfaction because I know I was part of their journey.
"What people might not realise is the amount of sacrifice that goes into playing for Ireland. Yes, it's a huge honour and we get to travel the world, but very often we're stuck in a hotel or waiting for hours on transfer flights while we're missing big family events at home. It's far from luxurious and we do our best to keep each other going.
"From a personal perspective I remember being in Colorado, in our first year on the World Series. We were really struggling to perform in the early games but then hammered Fiji to get into the 5th Place semi-final where we played Russia.
"I'll always remember the determination shown by everyone against the Russians that day. Lucy Mulhall came from nowhere to chase someone down. I also remember tackling someone into touch on our tryline. They were big moments.
"To that point it was the highest we had finished on the series, but the biggest thing was how that game proved to be a game changer in terms of our belief. It showed that we could mix it with the best in the world. To be part of that and part of that change in mindset is something I'm hugely proud of."
Back to News
Latest Posts