News
The Journey Continues for Tadhg Leader
04th August 2021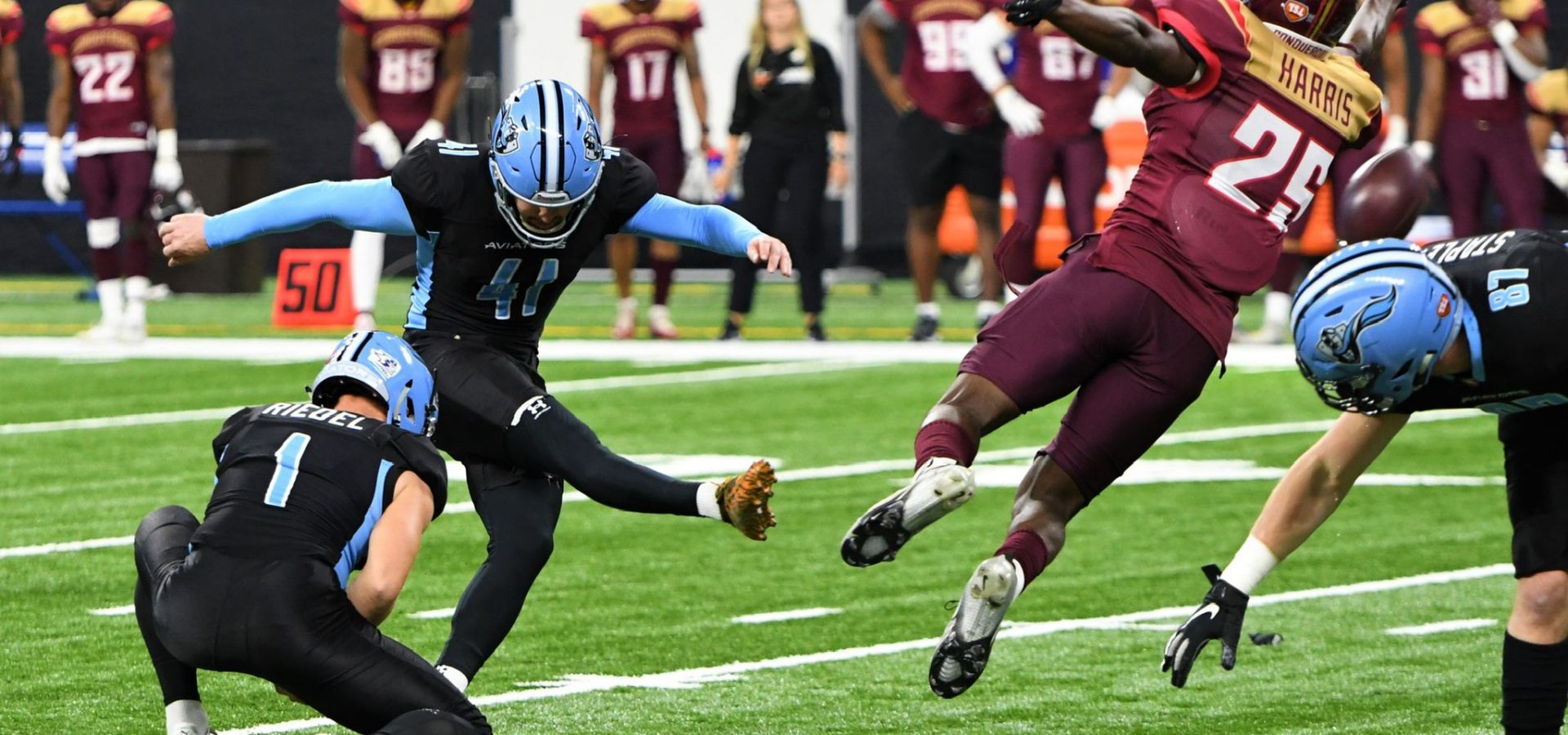 Last week former Connacht Rugby player Tadhg Leader joined the Panthers Wroclaw of Poland in the European League of Football, making his debut in Cologne at the weekend. Prior to returning to Europe, Leader lined out for the Aviators in the Spring League and had the NFL very much in his sights.
November 2018. Tadhg Leader stood in the Aviva Stadium suited and booted in his USA Eagles number ones taking it all in. The previous week he had tuned in from Missouri as Ireland claimed a famous victory over the All Blacks. Days later, the Galway man was at the site of that iconic game bellowing A Star Spangled Banner with all the bursting pride of an American. His rendition of Ireland's Call was a little more discreet.
Not long before, Leader was partaking in a Sports Management module at Lindenwood University when his phone buzzed. Greg McWilliams was on the line from Romania where the Eagles had picked up an injury at fly-half. Within three hours, Leader was on a flight to meet McWilliams in Dublin as the USA landed in to play a buoyant Irish side later in the week.
Eligibility criterion ultimately precluded Leader from featuring in the test international but it demonstrated to his Irish peers that there are opportunities out there for those who keep their eyes open to them. He would go on to make a handful of appearances for the Eagles. Quite a turnaround for a player who left Connacht without a senior cap.
"The doors that open to sportspeople are very unique," Leader says. "They're the kind of opportunities that aren't offered to everybody so I think you owe it to yourself to do your due diligence on them and not dismiss them out of hand."
From coaching sides to national titles, to representing American rugby players in the European market, Leader left no stone unturned during his time in the USA. Even at 29, Eagle #532 continues to push new boundaries. A few weeks ago, Leader lined out for the Aviators in the Spring League, an elite American Football professional development competition and NFL scouting event. Now, by linking up with the Panthers Wroclaw, he hopes to continue the journey and further his on-field experience.
"It was only late last year when I began to give American Football some serious thought," the former Galwegians player explains. "I was all lined up to play MLR again with the New England Freejacks and I was in the US Eagles player pool. I went out kicking some footballs one day, enjoyed it and decided to do a session with a kicking coach. After 3 or 4 kicks he said, 'ok kid, you need to go see John.'"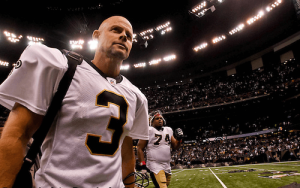 A veteran of 24 years in the NFL and many years since honing the skills of the game's best kickers, John Carney can spot talent when he sees it. It wasn't quite Chubbs Peterson's reaction to Happy Gilmore swinging a club but there was certainly an element of surprise when the red headed Irishman landed several kicks from distance with ease. Carney was impressed.
"It' definitely a different ball game," Leader says of his latest sporting adventure. "I've come off rugby pitches having missed a few kicks at goal and people would still pat me on the back on a game well played because as a 10 there are so many ways in which you can influence a game. In American Football you might only have five involvements in the entire game, you have to clinical every time. Some of the Americans liken it to a snipers mentality, 'one shot, one kill'.
"As a kicker, you're on for 1.3 seconds. It's so specific. The margins are tiny. If you take .05 seconds longer than you should you're getting blocked. You have a guy snapping the ball 8 yards and another catching, placing, twisting, and leaning the ball in like 0.2 of a second while I'm on approach. If the slightest thing is off it makes it a whole lot harder. Trust is the other two guys is vital, any hesitation and you've no chance of scoring.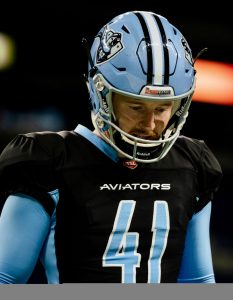 "John Carney recommends that you sit as far away from the action as possible and not engage with the game. It's a bit like golf in that you can't be too emotional. He has taught me the processes to manage that dead time so I spend a lot of time drinking water and kicking into a net. I need to be ready to do my job irrespective of what's happening in the game around me.
"Meanwhile you can't help but hear the guys going crazy on the field. I've never heard anything like the amount of smack they talk! In some ways you miss being in the heat of a battle… but don't get me wrong, they're such big men that I've no interest in getting involved in that sense. It's just very different from a psychological point of view. I've been learning a lot about the mind."
Continuously developing his skillset as a coach, Leader has already been imparting his most recent learnings on eager students. Despite only wrapping up his last game for the Aviators at 2.30am of a Saturday morning in June, he was out a few hours later hosting a kicking session in Indianapolis drawing on the various influences of his career.
"Traditionally football kickers are very robotic in that they kick high and straight. In rugby, we tend to kick across the body so I found that a lot of returners struggled to read the flight of the ball because they couldn't read my hips. I could mix it up quite a bit. I've also incorporated loads of information I've soaked up here, especially the mental stuff into my rugby coaching. The detail they go into is an eye opener.
"I'd like to think that my broad skillset put me in the shop window for the NFL," he admits. "Over the past few weeks a number of guys in the league have signed contracts so I know I'm wasn't that far away. I was in the next pool behind the 32 kickers already there. That in itself is pretty cool.
"Even if it never comes off and I never put a shell on my head again I'll still look back on what I've done and be delighted that I had the courage to give it a crack."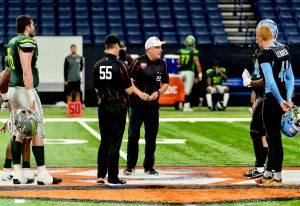 Having attained a GPA greater than 3.5 in every semester during his time at Lindenwood, Leader opted to kick on with his education and recently concluded his MBA at Lasell University in Massachusetts. Through his studies he has developed a keen eye for risk and opportunity. He encourages players who might feel like they're in their comfort zone to consider a fresh environment, just as he did with his own brother.
"I've seen a change in my brother Darragh who came out to the States last year. He did all the right things: 90 odd caps for Connacht, a call-up to the Irish squad, a degree. Yet he has matured so much in those few months because he has had to fend for himself. Getting out of the bubble has been the making of him because it's allowed him to spread his wings.
"I've talked to some of the guys on the fringes back home and have told them not to be afraid to broaden their horizons. I was even showing some lads an article in Rugby World about the potential for rugby players to pick up jobs in WWE. I think players should see that they can actually use their experience as a professional rugby player in so many ways.
"No matter what somebody chooses to do I really believe that once you go into things with an open mind and once you're prepared to explore them, you'll have a very cool journey to embark on. These doors don't open to just anybody."
Back to News
Latest Posts