News
A Happy Juggling Act
06th May 2020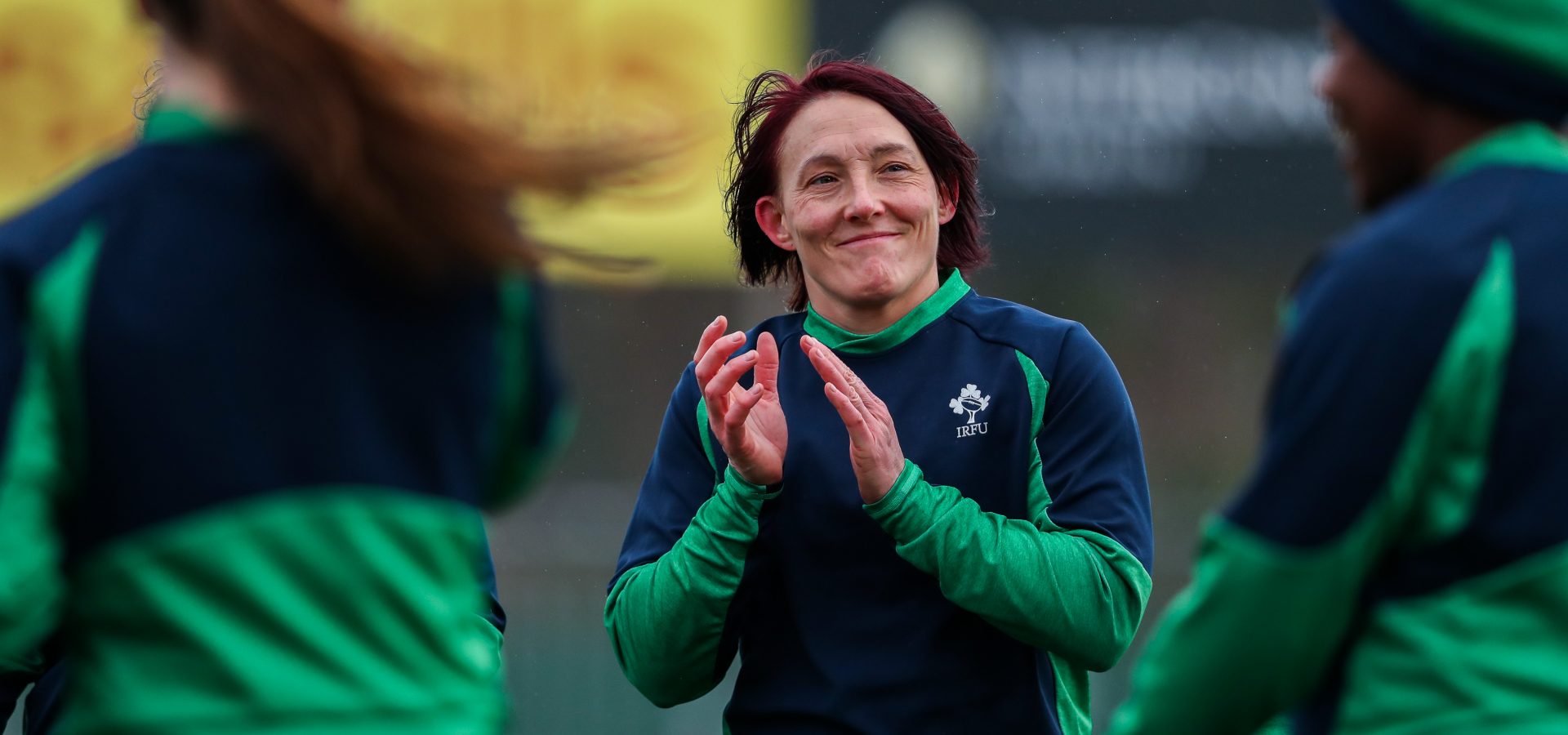 Before any of us, Lindsay Peat was preparing for a lengthy lay-off from the rugby season. Stretchered from the Doncaster field during Ireland's Six Nations clash with England, a broken leg was always likely to preclude her from any further action in this campaign.
Resigned to rehabilitation for the coming months, the sudden onset of Covid-19 threatened to compound her situation and that of her family. However, we are yet to find an obstacle that Peat has struggled to overcome. She always finds a way.
"It's ridiculously strange to be honest," the 30-times capped Irish international makes of the current restrictions. "I'm a very active person but as a family unit we're very active. We're always out and about – we've a very energetic four-year-old!
"Between the injury and the lockdown, going for walks or cycles or chasing or any of the fun games we would normally do, rolling down the hills next to the house, all the things you take for granted are out the window. You're trying to fill the days and make sure you've some sort of routine."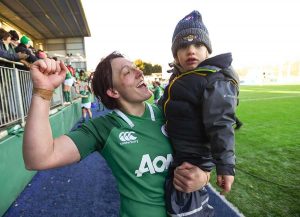 In recent weeks structure has held sway. Like many households, Joe Wicks maintains a regular presence, home schooling has been ventured while rolling pins and baking trays lie scattered about the kitchen. However, Peat's full-time role as a clerical officer with the HSE has also come home. It's all a bit of a balancing act but one she's happy to juggle.
"With my job and all the rugby, I'm always chasing my tail and trying to fit everything in. To have life slow down on this level and to be able to catch up on time that I missed out on, say during the Six Nations, is obviously… you know, a blessing in disguise. From that aspect it has been brilliant.
"I would never have that time to do that with Barra, or to have the three of us doing something together and just having the craic. It's the huge positive we've found in this situation. Obviously we're missing our families, missing our cousins, nephews, nieces but you have to stay safe and well and make the best of the situation and that's definitely been the increase in family time together."
Though Peat finds it comforting to have Barra and her wife so close at this time, the outlet of sport is badly missed. Whether it was squeaking about a basketball court or throwing her gear bag over her back on Jones' Road, sport has been a constant throughout her life.
"I miss that purposeful feeling when you're going training and meeting the lads and having bit of craic and that bit of competition. Then even from a family side, just having them at the games and having that elation of competition and playing in front of the crowd, you know, all that is gone.
"Sport has always been my go-to. It's been one of the most joyful parts of my life that I have been able to celebrate with my family and everything else. I never thought I took all that for granted, it's just now that it's gone, you're like 'my God there is a huge void missing in my life.' I guess we've all taken it for granted in some way and you don't realise that until it's taken away."
Under the guidance of Jo Montgomery (IRFU physio), Orla Curran (IRFU S&C) and Marcus Shortall (IRFU nutritionist), Peat is well on her way to recovery. Though initially frustrated by the limitations of her surroundings, the prop has been getting creative. Whether she's doing tricep dips off the coffee table or chin-ups off the gate outside, the work is being done.
"It's amazing what you can do when you put your mind to it. I've quite a few sessions under my belt at this stage. I try to recreate the same atmosphere, so I put the earphones in and feel like I have a purpose. I block out the world, I get into my zone, my brain kicks into gear and I chase those mini-goals. Once I get the workout done I really feel like I'm getting somewhere. Bit by bit I'm crawling out of that dark place."
Despite her progress, the former Dublin footballer has a bit to go before she can pack down for Railway Union or Ireland again, but the enforced lay-off may actually see her back in action at the same time as all of her teammates. She may not miss all that much rugby at all.
"The main thing is public health so as things were unfolding and there was the possibility of games being pushed out or cancelled, my concern was for those around me. But yeah, from a selfish point of view though there was a part of me that felt I was being given a bit of extra time to get back up on my feet.
"Obviously that's not coming from a place of wanting to be where we are. All elite athletes are the same – we're selfish by nature, otherwise, we wouldn't be in the game we're in. I'll keep ticking away and concentrating on getting back fit. In some ways, I'm glad I have that clear target.
"My main wish is that we really get a handle on it and stop the spread and help those who are affected by it both on the frontline and from a patient perspective. Everyone is in the same boat. I don't normally get upset, but I think we're very up and down in this situation between missing loved ones, missing friends, missing teammates. The big thing now for me, is just knowing the family are safe and well. I want to give them all a big hug and a kiss!"
Back to News
Latest Posts