News
ALISON MILLER IS PICKING UP THE PACE
03rd September 2018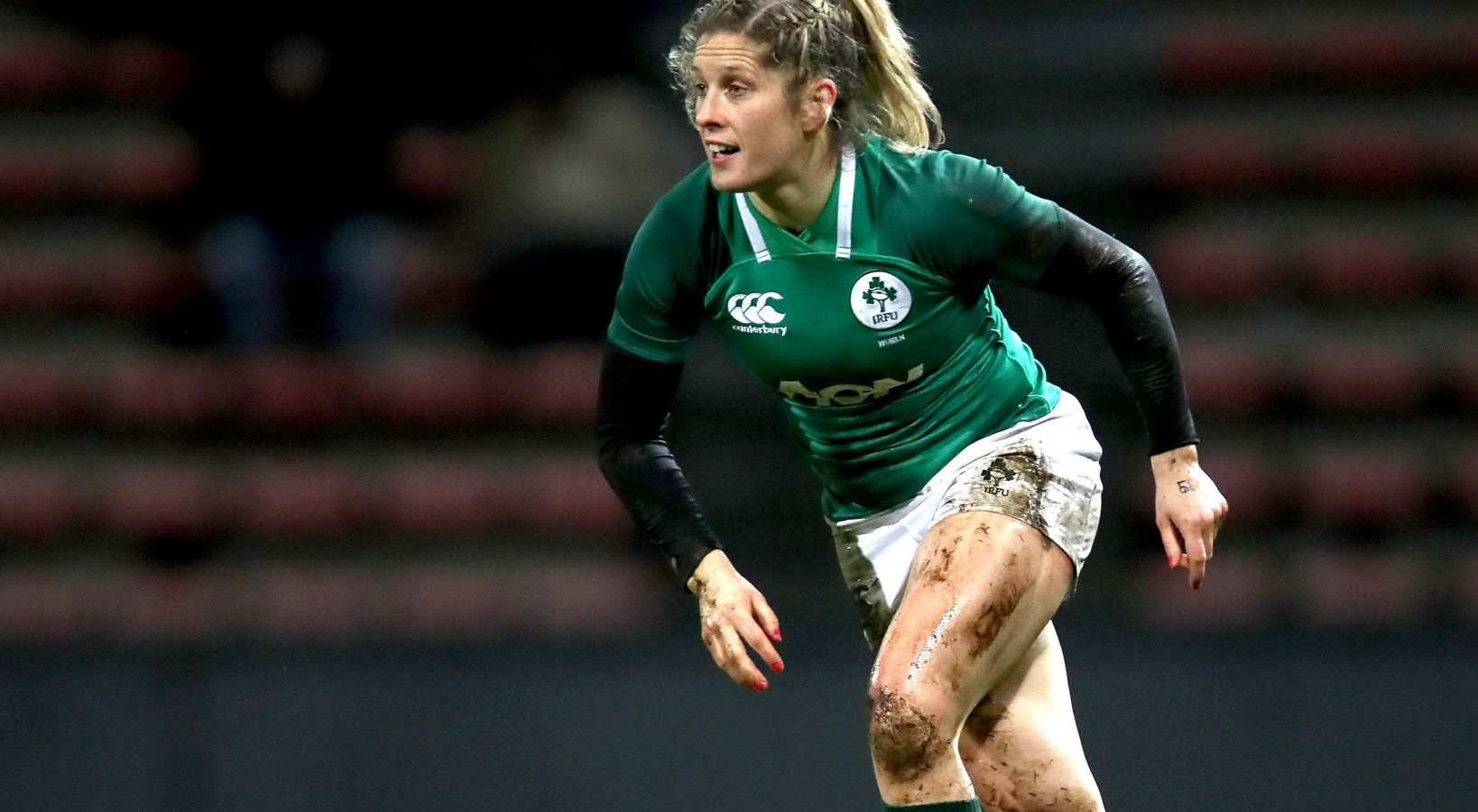 We caught up with Connacht & Ireland wing Alison Miller to check-in on her recovery and to get her view on the upcoming interprovincials. Catch the full interview on Limor!
It was nothing out of the ordinary. Alison Miller in full flight has been a familiar sight on the Irish wing since 2010. With a strike rate that averages a try every two games, the Laois woman has been a key figure for Ireland in each of her 43 caps. So, as she set off in the early moments of the Six Nations clash with Italy in February, we all knew something was going to happen.
What transpired was not on our radar.
As she hit the 4G surface in Donnybrook, it was immediately obvious that Miller was in trouble. Despite the relative security of the wing, Miller relishes the physical nature of rugby and at some stage during a match you can be sure that she'll have to shake off a niggle. Except, this was nothing of the sort. The sight of her teammates shying away told us that something very serious had happened.
For the non-medical practitioners amongst us, Miller suffered the same fate as Seamus Coleman when playing for the Republic of Ireland against Wales last year. It was almost 11 months post-injury before Coleman, a professional athlete, returned. A compound ankle fracture for an amateur athlete forecast many bleak months ahead.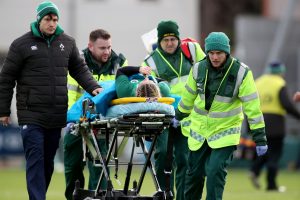 "I didn't look!" she recalls, "I probably would have fainted. I just knew by the pain. It felt like it was going off to the wrong side. Like all rugby players I've had operations and breaks before, but this was definitely the worst pain. I told the physio it was broken, and he said: "No, don't worry it mightn't be." Then he came over… "no, it's broken!"
At 33 and faced by a long road to recovery, it would have been easy for Miller to walk away from the game for good, concentrate on her teaching and be happy with a memory bank that includes a Grand Slam, a Six Nations title and a famous victory over New Zealand in the 2014 World Cup. But with strong sporting genes and a competitive thirst that needs constant quenching, that prospect never came into focus. Once she managed to get moving again, Miller felt that she was back in the fold. Her positive outlook also had her find a silver lining in her lengthy lay-off.
"[During the season] you're in a heavy training load, especially when you're not a professional. You're working, up early, out late, driving here, there and everywhere. It takes a toll after a good few years. You get tired and you sometimes question why you're doing it. But when you get an injury you realise how lucky and privileged you are to be in a position to be able to play – that gave me the motivation and energy to get back into it."
There were the obvious hurdles to surmount along the way, most notably through her work as a teacher at Coláiste Lorcáin in Castledermot. In what was a small mercy, Miller's injury occurred just prior to the mid-term break while the subsequent onslaught of snow meant that she had further time to recuperate at home. Nevertheless, upon her return, Miller's classes had to be moved closer to the staffroom while many of her PE sessions had to be covered by her colleagues.
A talented sportswoman throughout her youth, Miller was a dab hand at a variety of sports including basketball, volleyball and hockey. However, despite having an array of relatives who have lined out for the Laois footballers, Gaelic Football was not one of them.
"I didn't grow up playing football because I was an athlete. I wasn't to go near a football. I was a heptathlete. You train in a very specific way for athletics and if you're out running around a GAA field, different fitness, different systems – it doesn't help."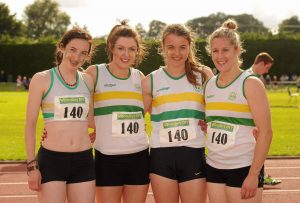 The ability was always there though. Within months of hanging up her spikes, Miller was playing with the Laois Ladies football side, a source of great pride for her father Bobby. While Alison had never lined out on the football field, the inevitable kickabouts at home with her family had honed her skills. However, Bobby was always cognisant of his daughter's wider sporting ability and encouraged her no matter what she turned her hand to.
Sadly, Bobby passed away while stationed on the line for a Laois Senior Football Championship fixture between Arles-Killeen and The Rock in June 2007. He never saw Alison line out to such great aplomb on the rugby field.
"My dad didn't play rugby, but he always had an interest in it. When I was 13 or 14 we tried to start a girls' team in Carlow. I was really interested until it fell through, but it was always something at the back of my mind. After that summer my father died, I went back to college and said, 'well I'll give this a go, I've nothing to lose.' I loved it. I loved the pace, the physicality, the freedom of being able to run.
"My first ever game was for Portlaoise against Cill Dara and I remember knowing that once I got my hands on the ball I could do something. I scored a good few tries that day and they were like 'you're not going back to any of your other sports.' We were the lowest division possible, but we won that and went on to win the All-Ireland Division 2 and a few years later and made it up to Division 1."
While Miller's rugby destiny seemed bright, she had to go searching for opportunities in the game. A failed trial with Leinster prompted her to look west. Deep down she knew that she was good enough to perform at a higher level and over several consecutive weekends, she travelled to Connacht in the hope that her potential might shine through. It did and later that season she was lining out for Ireland in the 2010 Six Nations.
"No one had noticed me! When you're playing in a lower league I don't know if anyone goes around to watch, which is a pity. That's where you get a small club with GAA girls or soccer girls just giving it a go. They could actually be hidden gems. I helped out with the Tullow Women's 7s this year – the talent over there is phenomenal. Some are very raw, but they also could be something very special."
With the interprovincial series kicking off, many new faces will come to the fore of the women's game. The likes of Miller, Munster's Eimear Considine and Aoife McDermott of Leinster have all used the competition as a platform to open the door into the international environment. However, further afield some still question the quality and purpose of the women's provincial sides. Miller is quick to disparage such sentiments.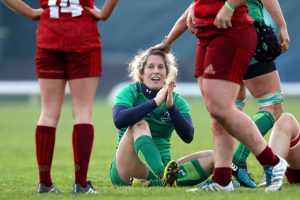 "The interpros are a very important part of women's rugby in Ireland. Personally, it gave me the opportunity to play for Ireland. Some people are lucky to get that opportunity but for others, playing for your province is a huge thing. Why take that opportunity away from people? It's a huge chance to represent your club and province. It's a great achievement.
"There might be a player in a club who is potentially very good, maybe a little raw. Then they go and play with their province and suddenly, you see their progression. They develop their skills and bring that knowledge back to their club. They become an option for the Irish coaches who wouldn't have seen them before without their skills and abilities having been honed and harnessed in the same way. When you're with the provinces you're playing with a better standard and they're pushing you and you're striving to be better. You learn things at a really quick rate."
Miller is clearly disappointed to be missing this year's instalment, it has come too soon. However,with the help of Joe Montgomery and Ed Slattery at the IRFU, she is picking up the pace.
"I'm at the stage where I'm back running, progressing from a half-walk to some faster paced stuff. There's a lot of work to do, but it's positive that there's no pain. It's onwards and upwards from here. Once you're running you feel you're back at it. You're on the pitch again at least.
"I'd love to get back for the Six Nations. I think it's definitely doable. Injuries are injuries, but I'm on the right path."
Richard McElwee
Back to News
Latest Posts