News
SOME SCORCHING PLAY AT ANNUAL GOLF CLASSIC
27th July 2018
After last year's deluge, the Rugby Players Ireland umbrellas seemed entirely necessary. Box loads travelled to Druids Glen in anticipation of a downpour that ultimately never materialised. Instead, bottles of sun cream were much sought after on what was a glorious day on the Druids Glen Golf Course. The sunny morning set the tone for the day ahead.
Speaking before he headed out on the course, Rob Kearney felt that there was a good buzz in the clubhouse, before drawing light on the ruthless undertone. "Some boys have been flat out," the Rugby Players Ireland Chairman alleged. "I think four or five came down last night. They got some some lessons, stayed over and were up early this morning. The competitiveness has gone through the roof this year!"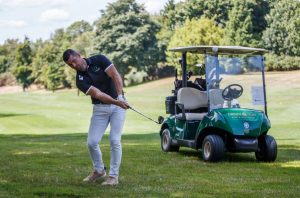 There seemed little of the sort as players accompanied their golf partners to their buggies. Of course, a scramble format dictates that a well-working team represents the best chance of success. No doubt there were occasions when the traditionally individualist golfing will-to-win shone through, but ultimately the Rugby Players Ireland Annual Golf Classic provides an opportunity for our commercial partners to mingle with the players that they help to support throughout the season.
"The opportunities that an event like this offers to the players is superb," says Denis Hurley, Operations Manager at Rugby Players Ireland. "Every guy here is competitive in amongst their team. Overall, our corporate sponsors help to support the organisation to run, operate, grow and develop in the direction that we want to best support the players. There's a lot of important factors here but above all else it's an enjoyable day out that people get a lot of value out of."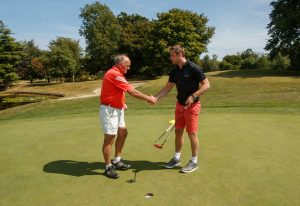 Recent retiree Tommy Bowe agreed, adding that it is also a chance to support the work of his association with whom he has worked very closely in recent times. "The work they [Rugby Players Ireland] did for me in helping me ease into retirement is something I'm hugely appreciative of. Retiring after playing rugby for 14 years is obviously going to be a bit of a shock, although it's great at the minute because I'm watching everybody in pre-season (which looks horrible) while I'm off playing golf days like this!
"I'm keen to anything to help Rugby Players Ireland in whatever way I can. They've been brilliant to me throughout my career and hopefully meeting some business people here and other contacts might help me in my life after rugby aswell."
Following a delightful lunch back at Druids Glen Hotel, Shane Byrne took to probing Leinster duo James Lowe and Dave Kearney with a few questions before the honours list was revealed:
1st Miele & Rhys Ruddock
2nd Wilson Hartnell & Ciaran Frawley
3rd Vodafone & Ross Molony
Longest Drive: Mick Kearney
Closest to the Pin: Scott Fardy
Back to News
Latest Posts