Just as I began to consider a change of table or even a more suitable venue, the 6'2″ affable Kiwi entered the room and introductions and small-talk ensued. We immediately apologised for a mix-up in the dates but Heenan shrugs with a wry smile, "I'm not that busy, I wouldn't worry too much about it!" Of course, the 25-year-old from Whangarei is currently sidelined until April with an injury to his left shoulder, a very careful removal of his jacket a testament to that.
The coffees arrive and a slight nod to the cafe staff is delivered by Heenan – the Connacht Rugby squad are familiar visitors to this particular establishment, just a stone's throw away from the Sportsground on the Old College Road. "How's the shoulder?" – Probably not the greatest opening question to ask when it is known that the back-row forward may not play for Connacht again, with his departure from the province at the end of the season already confirmed, Heenan may not get another opportunity to run out in front of a packed and boisterous Sportsground.
However, my discussion that day with Jake wasn't to discuss Connacht's season or his comeback from injury but it was aimed at achieving an insight into the life of a professional rugby player, not just the 80 minutes we see of them on the pitch or the snippets of their thoughts on next week's game in the media, but what truly defines them as an individual.
Heenan arrived in Galway from New Zealand in 2013 when he was just 21-years-old, having been asked by Pat Lam to join him on a remarkable journey which would see the western province win the PRO12 in 2015/2016 playing one of the most exciting brands of rugby seen at the time.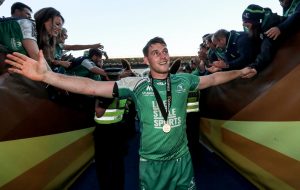 "So [Pat Lam] asked me to come over [to Connacht] as an uncertain 21-year-old and it ended up being one of the best decisions of my life and I would encourage any of my friends back home to do it."
The encouragement that Heenan speaks of isn't related to pursuing a life as a professional rugby player but rather that of living abroad and experiencing a new culture. It's almost immediate from our hour-long conversation that Heenan could be described as something of an explorer, someone who is open to new, exciting but often daunting opportunities – moving to the other side of the world, away from family and friends was his first step on this journey.
It's safe to say that travelling is one of the 25-year-old's true passions in life and it's not difficult to see why. It's easy to forget how privileged many of us are by living in Western Europe, the opportunity to experience a completely different culture could just be a short two-hour flight away, but growing up in New Zealand, you couldn't be more separated from the rest of the world as Heenan explains.
"I suppose that's why I appreciate it, you know? You appreciate travelling because it's so hard to do in New Zealand, it's very expensive and you're a long way from anywhere."
You would find it difficult to find someone who doesn't enjoy exploring new countries and experiencing new cultures. Of course, this applies to Heenan, but it's the opportunity to be more of his true self, rather than what we may perceive a professional rugby player to be, which really appeals to him as he takes full advantage of living at the gateway of Europe and the USA.
"I'm a lot happier, I'm a lot more content when I'm travelling. You learn a lot about yourself and other people, you become better at interacting with people and dealing with situations and that sort of thing, I suppose that's one of the reasons why I enjoy it…"
It seems that any opportunity Heenan gets in the structured and heavy schedule in life as a professional athlete he will use to explore new territories and cultures. Once a year he likes to travel with some of his friends in the Connacht rugby squad or as much as he can with his partner, who he met in Galway, but it's travelling on his own which really allows him to come out of his shell.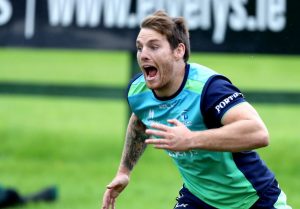 "I actually enjoy [travelling on my own]! That's where I find I'm more talkative and normal. I enjoy doing things and I do things I normally wouldn't do, I talk to people I normally wouldn't which I really enjoy and again you soak a lot of things in, you know? A basic thing like being on the subway or just walking down the street, you notice more…cultural subtleties. So yeah, I do like travelling on my own."
Heenan has a deep connection with water. So much so that in addition to spear-fishing being a hobby of his back in New Zealand, the flanker, alongside one his best friends, bought an old van in Galway before retrofitting it and road-tripping it down the west coast of Europe for a surfing trip with his partner, along with his faithful canine companion, Brody.
They ferried over to Roscoff in France before undertaking a journey which brought them down the west coast and into the Basque region of Spain to San Sebastian. From there they drove through the beautiful landscape of the Pyrenees before making their way back through France. "There were a few hard lessons when we went surfing," Heenan laughed. "The surf gets pretty serious over there! You're there, so you give it a shot but I found myself in a washing machine far too many times, more often than not!"
Of course, living on the west coast of Ireland isn't a bad place to be to nurture a love of surfing. However, what is interesting is that Heenan also uses this hobby for medicinal purposes, as an escape from the rigours and pressures that are associated with life as a rugby player.
"This season, I was sort of injured in the pre-season, I came back, didn't get selected and then got selected, played and then got dropped straight away the following week. I took that pretty hard and I was pretty upset, wanting to get better.
"So it was a bit of a tough week and I said that weekend, "fuck it, Friday, training done, I'm going down for a bit of a surf." So I went down, paddled around, same again on Saturday…came in then on Monday and felt as good as I've ever had, you know that kind of way? A lot of what I was holding onto or what was getting to me was gone."
For many people, the sea has a cleansing effect, the ability to provide a moment of clarity or wash away the worries associated with 21st-century living. The promotion of mental health has increasingly been at the forefront in Irish sport, highlighted by the 'Tackle Your Feelings' campaign conducted by Rugby Players Ireland, the representative body for professional rugby players in Ireland, of which Heenan is an ambassador.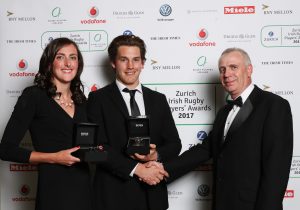 "Yeah that was interesting, that was a good experience [Tackle Your Feelings Campaign]. I've always been interested in the mental side of sport you know? So doing a bit with the mental side of life was quite an interesting thing and probably things I've maybe been doing or not doing I might have taken for granted…."
The 25-year-old is acutely aware of the risks associated with banking your whole life on rugby, both from a professional and personal perspective, as Heenan recalls an invaluable lesson he received in his youth which has stuck with him throughout his career.
"I remember a teacher said to me in school, he said: 'You need to do something other than rugby….when rugby is finished, you can't bank your whole self-esteem on rugby.' You hear about a lot of post-career depression so that's important.
"I'm a rugby player, I'm a person who plays rugby but when rugby stops and it will, I'm happy with what I've achieved but I'm happy with what I'm still doing and I'm happy with what I'm going to do. Working on the person as well as working on the professional is important I guess."
Being happy – when you're playing rugby, when you're training, when you're walking your dog, whatever it may be – it's something which consistently crops up in our conversation. Heenan makes sure that whatever he's doing, he reminds himself to enjoy the little things in life. This applies to playing professional rugby, too, as he explains his number one priority when he makes his comeback from injury is to enjoy himself. "My number one aim that day is to enjoy the game. That links back to playing well. I find, personally, that if I'm having fun I play a lot better, I even find myself more aggressive if I'm having fun in a weird kind of a way, when I try to be aggressive, I'm not and I don't enjoy it, it's a funny little paradox!"
"I write my words before a game and the last one is to always have fun so that's really important to me. In that way when I look back on my career I can say I really enjoyed it, I enjoyed playing rugby, I enjoyed the game itself."
It's hard not to feel sympathy for the Connacht man, he has had a torrid run of injuries which has seriously hampered his time with the western province, so much that when he underwent surgery on his other shoulder, the surgeon told him he would sign off on his retirement if he so wished.
"When I had my last surgery on that shoulder, there was a 30% chance going in that that would be me done. Before the surgery, the surgeon said that if I want to take my retirement, he would sign me off. You're going to sleep and you could wake up having to find a job, so you do appreciate things."
So it's no surprise that Heenan makes sure he enjoys his rugby as much as possible as he admits himself, it can be taken away so quickly from you. So as our conversation draws to a close, Heenan concludes that with the volatile and uncertain nature that is associated with a career as a professional rugby player, it's the experiences and relationships which matter to him most.
"I try to work on relationships with people, that's a lot more important to me. I mean, you say that but it's hard not to focus on possessions. Wanting things is very natural but I do try to work on people and it's about living my life as much as I can and being as happy as I can first."
With Heenan's journey to date taking him to the other side of the world and winning one of club rugby's top competitions, you can certainly say that he is living life to the full and whatever path he chooses to travel on in the future, one can expect that relationships, experiences and most importantly, being happy, will guide his way.
---
This interview appeared as part of 'This Is Me', a nationwide collaboration between Rugby Players Ireland and Pundit Arena on January 19th 2018.