News
A WINDOW INTO WHAT SHAKES VARLEY
09th October 2017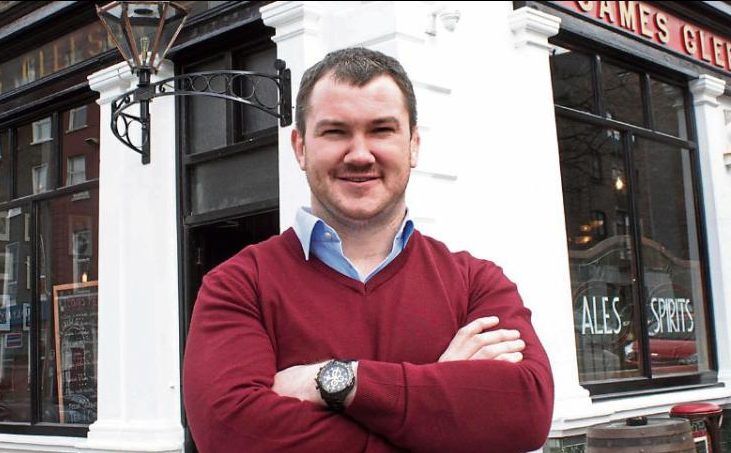 It seems as though you are never far from rugby when you are in Munster. Whether you are down in Ahakista or across in Dungarvan, the Thomond roar will wake you up in the morning and form the soundtrack for your day.
But while Damien Varley now spends much of his time less than a mile away, the famous stadium might well be a hundred.
When the likes of O'Gara, Wallace, Hayes and Flannery began to take their leave of the red army, it was to Varley whom many at the province turned as they sought to fill the void. And justifiably so. A strong and influential character, Varley commanded the respect of the dressing room and possessed all of the attributes that many felt would lead Munster back to the pinnacle of the European game.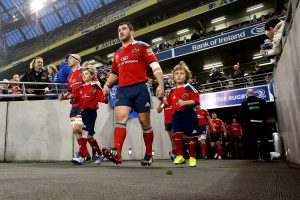 At just 33, Varley might still be thriving in that role but for a foot injury that robbed him of his career.
"I still break down," Varley admits. "Running for about 200 metres is fine but I'd struggle to run 2km. No doubt the lads would say that I'd have struggled with that anyway…!"
Despite carrying the problem into the 2013/2014 season, Varley enjoyed one of his best campaigns for Munster and regularly captained the side in the absence of Paul O'Connell. Of course, as a proud Limerick man there was little chance of the hooker heeding medical advice and standing down to sort out the issue.
But, soon he had no option.
"We were playing against Leinster in October of 2014. I felt in great shape but I'd had a bit of a setback on the hard ground away with Ireland in Argentina that summer. At one stage during the game in Dublin I put my foot back in a scrum and it just completely went. We won the match but I remember very little of it. I was panicking. There was pure elation all around me afterwards because Leinster had been the form team for a few years and it had been a while since we had beaten them. But I was in the toilet, crying."
For once, this was a challenge that Varley would fail to overcome.
Having been overlooked by Munster in 2006, the hooker was forced to look elsewhere for a professional contract in the game. For months, his efforts to find a club proved fruitless before an introduction brought him to the attention of Ian McGeechan and Shaun Edwards at Wasps. Despite a queue of hookers, Varley took whatever chance came his way. Indeed, just one day after signing for the club, Varley was thrust into action and his debut try ensured victory over Wasps' fierce rivals, Leicester Tigers.
"It was a strange year," Varley recalls. "McGeechan was due to take the Lions to South Africa so he was very distracted for much of it. The following season it showed I think because they went to shit. But I had a great time when I was there. Early enough into the season, myself, Redser (Eoin Reddan), Jeremy Staunton and Mossie Lawlor all knew that we would be leaving so it was like a six-month stag! It was incredible!"
While Varley enjoyed the bright lights of London, his playing time there also restored belief in his abilities, prompting a swift return to Munster. Suffering from a crisis of confidence when initially faced by an array of "monsters and men" that included Raphael Ibanez, Phil Vickery and Simon Shaw, Varley held his own on the training field despite shipping a few hard knocks. It proved to be the greatest learning curve of his career.
"I sometimes think that it's almost too easy for players these days. They expect to have their arse wiped at times. The game misses the hardened edge that you used to get when Shannon or Young Munsters played Garryowen and you really had to grind it out. All the top players came through the AIL – they were playing rugby, week-in, week-out. Those guys had an unbelievable work attitude. Don't get me wrong, I'd love to be out there today but there is more of a celebrity type culture attached to it at times and there's so much to contend with. It can be dangerous territory. Managing social media is a job in itself! But, if you've the right attitude, you should be able to handle it all properly.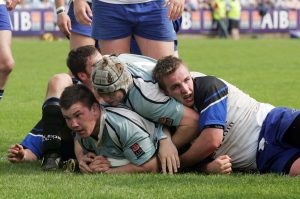 "Some of the lads in the game, through no fault of their own, are a bit like children. They've never experienced the outside world; the struggle to get a contract or chasing down work. You get paid to do what you love, you go home, put the feet up, watch Game of Thrones and eat your dinner. You're well looked after. It's such a bubble that you only see when you're out of it. We are a selfish people and will do the best thing for our game, but players also need to be smart and broaden their horizons. They need to see the bigger picture which, admittedly, can be hard depending on what's happening in camp. But overall, instead of asking 'what can you do for me' they need to look at themselves. You have to be able to contribute something outside of the game. None of us really know what we want to do in the long run…"
Varley met with some criticism when he first took over The White House Bar on O'Connell Street in 2016. Petitioned to resist transforming a pub that was known for its artistic and cultural heritage, Varley had made up his mind and overhauled the property, much to the annoyance of the local poets and songwriters.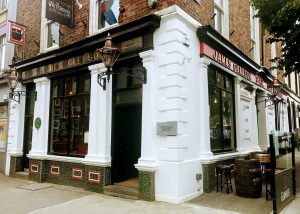 "I carried out a year's due diligence on the place. While I was watching it, it just seemed to be quite disjointed so I made a few changes. There was some rubbish in the media but I never got drawn into it. We wanted to try out new things: jazz nights, good crockery, nice glasses. We wanted to be different and give the customer a drink in a nice glass but people were sticking them into their handbags and walking out! We were robbed blind! I've experienced a lot of new things since I left the game, but I never thought I'd be dealing with something like that!
"Of all those experiences, I think that one of the biggest things I've had to remember is that I have come from a very blunt environment where you're called everything under the sun for honesty and accountability. But then you'd meet afterwards and you chat about whatever was going on. That doesn't happen in the real world. Things have always been very black and white for me, but not for others. People don't like that abruptness. As a result, finding a balance or surrounding yourself with people who don't understand goal oriented people's attitude can be challenging. That has probably been my biggest learning since I hung up my boots."
Life as a learning student wasn't always to Varley's taste. Growing up with aspirations of being an actor or musician, Varley's creativity instead lent itself to the rugby pitch (and the after-match festivities). Although he studied engineering at the University of Limerick, he admits that he cared little for academic work. Now though, as he seeks to make the most of his opportunities, Varley is too busy to rely on luck. Alongside The White House Bar and various other business interests, Varley has recently graduated from his MBA from Edinburgh University and he has just returned to UL to do a Diploma in Aviation Leasing and Finance.
"Going back to college a few years ago opened my eyes a little bit. Now, whenever I meet the lads I tell them about how important it is to have something in the background. The profile that rugby can give you opens so many doors. Some of the best businessmen in the world will give you their time, but it's up to you after that. There is a world of opportunity but you have to be a little patient. There is nothing better than getting into something and experiencing it for yourself, whether that's training as a plumber or shadowing someone in business. In any event, jobs for life don't exist anymore so it's best to try as many things as you can.
"From chatting to Marcus [Horan] and seeing what is going on, I think Rugby Players Ireland are beginning to really drive on now. Workshops and meetings were just another chore in the schedule of players and they were passengers of the association rather than being an essential part. We're tough people to deal with but we're also a nice little family… and everyone in the family wants to help. That's were I see Rugby Players Ireland playing an integral role."
Richard McElwee
Back to News
Latest Posts