News
PHILIP BROWNE:
IRELAND LEADING THE WAY IN THE PROFESSIONAL RUGBY WORLD
29th May 2017
As a people we are slow to banish our feeling of inferiority. We often tend to look on some of our contemporaries as better in certain ways. But in the context of Irish rugby in 1998, this was probably justified.
When Philip Browne was appointed as the first chief executive of the IRFU that same year, rugby in Ireland was trudging towards the professional era. Without a win in the Five Nations, Brian Ashton vacated his coaching role and duly admonished the administrative efficacy of the game in the country. In the summer tour to South Africa that followed, Irish Manager Donal Lenihan had to convince officials to let his Irish band of merry men pass into the ground at Bloemfontein while the dressing room was so cramped that the replacements had to change elsewhere.
Rugby in Ireland needed a bold leap to bring it out of the twentieth century. Had the same structures remained in place, we might still be watching our national team play at a rustic venue in jumpers to accommodate their portly dimensions.
"We quickly learned that there is no mediocrity in professional sport," Browne admits from his office on Lansdowne Road. "The IRFU has grown out of an amateur, voluntary body. It wasn't a seamless transition but today we have highly professional staff, both technical and administrative, supporting four successful provincial sides and their own staff teams – all of whom underpin the success of the national side."
Given the recent achievements under Joe Schmidt, there is much merit to what Browne says. Indeed, throughout his tenure the fortunes of Irish rugby have continuously improved to a point where 50,000 supporters in green turned up to watch their heroes in an American Football stadium, while Ireland fronts the bidding process for the biggest global sporting event of 2023.
"Chicago was a great success on several fronts. Obviously, the rugby was great; but on the reputational and commercial side it presented an opportunity to dip our toe in North America and see if we had any resonance. The answer was a resounding yes and will form the backbone of our World Cup bid – of which we are extremely proud.
"Throughout my time in the IRFU there has always been milestones. Adding three Triple Crown's in the early 2000's was huge for us at that time, while the Grand Slam obviously ranks right up there. I'm glad to say that we're now at a point where we're knocking off South Africa and Australia on a regular basis. But to beat New Zealand… a lot of people didn't think that would ever happen.
"To get to this stage we have needed to do everything to the best of our ability and in a professional manner," Browne continues. "Ireland is amazing in that because it is so small, you can effect change quite quickly. We have continued to punch above our weight."
As key stakeholders in what was a developing professional environment, there was clearly a need for the players to be represented. In its governing capacity, there would have been an evident conflict of interest had the IRFU sought to engage with issues on their behalf. Following some discussion with Donal Spring, Peter McKenna and Liam Toland, it was agreed that a representative body for the players was a necessity.
"Firstly, we had to ensure that we had the proper supports in place for their welfare. Then there was always going to be the inevitable areas where there would have to be collective bargaining. But above all we recognised that playing professional rugby is not the real world. Nobody wanted a situation whereby a player gives ten years of their career before emerging at the other end ill-equipped to deal with the pressures and difficulties of life outside such an institutionalised and confined space. We felt that it would be better to set up a group for the players, run by the players."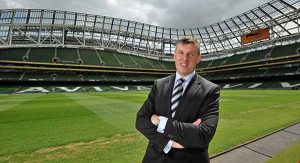 With a comprehensive programme based upon the representation, development and engagement of the player body, Rugby Players Ireland has become an increasingly influential voice in the rugby world. Under the stewardship of Omar Hassanein and now Simon Keogh, the association has grown and encompasses 12 staff members with specific responsibilities for the issues that concern the professional rugby player in Ireland.
"While there are times where we are going to disagree and there will be difficult conversations to be had," Browne admits, "we are clear that the players are vital to the running of the game in Ireland. They have to have a say in how things are run in the wider context. Over the past number of years Omar has done a terrific job in getting a greater degree of alignment and understanding as between the players and the IRFU. This has been vitally important"
An important tool in this process has been the Executive Board, a decision-making body for the association which provides member feedback and guidance to Rugby Players Ireland to ensure it remains player focused in all that it does. Chaired by Rob Kearney, the committee also consists of Andrew Trimble, Ronan Loughney, Peter O'Mahony, Jonathon Sexton and Shane Jennings on behalf of the past-player body. Sitting alongside them are non-executive members John Treacy and Peter McKenna.
"Over the years, players have become more engaged with Rugby Players Ireland," Browne feels. "Now there are a group of players in place who have taken a much more holistic view as to what it can deliver. They have a greater understanding of the issues that affect their playing fraternity. The players have grabbed control, which is always what should have been the case."
"It's an exciting time to be part of the association," says Rob Kearney. "We are going from strength to strength in all the work that we do across the professional game. Players are increasingly aware that their education and personal development are significant factors in whether they can perform on the field, while player welfare will always be a priority. Through Rugby Players Ireland, the voices of the players can be heard loud and clear."
While the IRFU aid areas of Rugby Players Ireland's operations, namely the Player Development Programme, the association has also benefitted from greater co-operation between the two bodies. In addition, Browne has had a greater insight into the work being carried out by the Rugby Players Ireland team. "We would always like to be able to give more but what we do is give the players the opportunity to decide how any investment may be spent in the most meaningful way. Then, by getting some of of the key people from Rugby Players Ireland in front of the IRFU committee, they hear what is being done and understand what the benefits of that spend are. They have been thoroughly impressed and supportive."
Hassanein, who recently became the CEO at the International Players Association, agrees with this sentiment: "The mutually respectful relationship that we've built as a player group with the IRFU has been an important cog in the success of Irish rugby, and one that is often understated. Players and administrators are now more likely to engage each other in any environment – a direct result of players repetitively coming into negotiations, discussions and forums targeted towards the health and direction of the game. Five years ago we set out to take ownership of our area of the game as players, something that we have done very successfully. It should be noted that the IRFU have been equally as proactive in promoting this shift, with Philip at the forefront of promoting change in a lot of long held attitudes internally."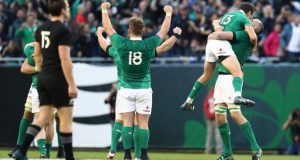 With the provincial sides having featured prominently in both domestic and European competition, there are no signs of Irish on-field success abating just yet. Meanwhile, eleven Irishmen board the flight to New Zealand this week as Lions following a season full of many standout performances. But what won't be seen is all the work being done in the background to ensure that Irish eyes remain smiling for some time yet.
"It has become very apparent that players who actively engage in their own development are more stimulated and create a better environment for themselves. To that end, the association has put some extremely good programmes in place. This is reflected out on the pitch. The proof has been in the pudding – Rugby Players Ireland have done a bloody good job."
Richard McElwee
Back to News
Latest Posts